Stay in control of your finances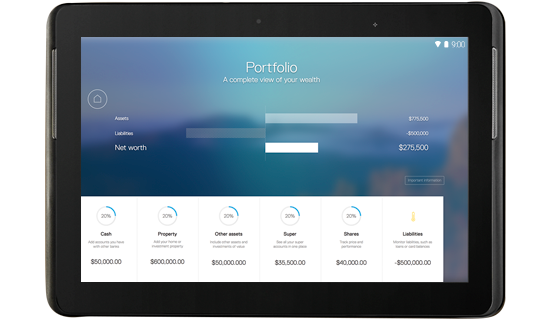 Portfolio lets you see all your assets and liabilities together, so you can get a better view of your net worth.+
Find out more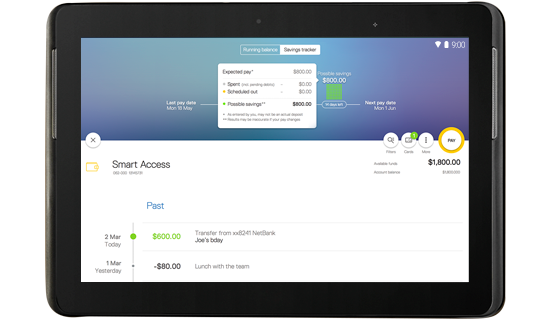 Gives you an overview of where you're at, at any one time. Enter your salary details and the Savings Tracker can tell you what you could be saving each month.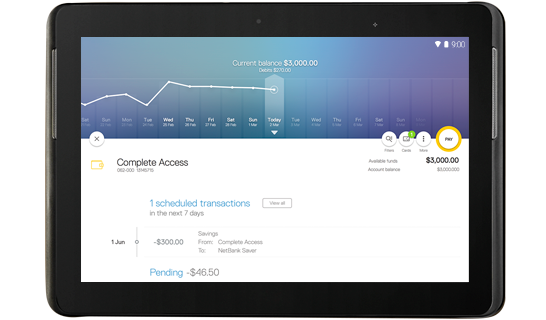 Snapshot view of your closing balance over the last 35 days and your current balance.
Security for peace of mind
We'll cover any losses from unauthorised transactions with our 100% Money Back Guarantee.* Just make sure you follow the terms and conditions for electronic banking and notify us immediately of any loss, theft or misuse of your PIN or password, and suspicious activity on your accounts.

Other great features
Fast access via a 4-digit PIN log on
Transfer money
Pay bills via BPAY®
View upcoming payments, transfers and schedule new ones
Activate cards and change your PIN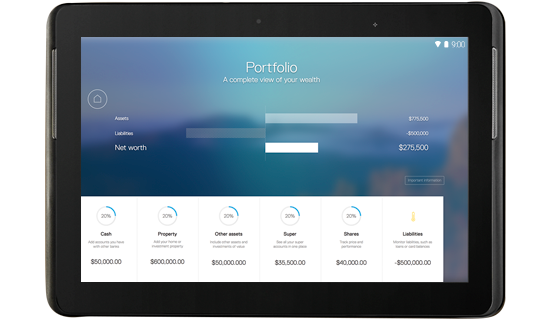 Things you should know:
The CommBank app for tablet is compatible with Android 4.2 and above and iOS8 and above.
+Please note that some CommBank accounts and products, such as Travel Money Card, Foreign Currency and Margin Loan accounts, won't be included in your Portfolio view. You can choose to add them yourself, but the balances won't update automatically.
*The 100% Money Back Guarantee means we'll cover any loss should someone make an unauthorised transaction on your account using the tablet app, provided you protect your tablet and PIN and immediately notify us of their loss, theft or misuse, and of any suspicious activity on your accounts.
The advice on this website has been prepared without considering your objectives, financial situation or needs. Because of that, you should, before acting on the advice, consider its appropriateness to your circumstances. Full terms and conditions for Electronic Banking are available here or from any branch of the Commonwealth Bank. Please view our Financial Services Guide.
BPAY is a registered trademark of BPAY Pty Limited ABN 69 079 137 518. Apple, the Apple logo & iPhone are trademarks of Apple Inc, registered in the U.S. and other countries. App Store is a service mark of Apple Inc. Google Play and Android are trademarks of Google Inc. Windows is a registered trademark of Microsoft Corporation in the United States and other countries. Commonwealth Bank of Australia ABN 48 123 123 124.