Never be stuck for cash again
Ever found yourself without your wallet and in urgent need of cash? Just access the Cardless Cash feature on the CommBank app and you can make ATM cash withdrawals from an Everyday Account without your card. You can even arrange for someone else to collect the money.
24/7 access to your cash without your card
Withdraw up to $500 a day-
Covered by our 100% Money Back Guarantee*
How Cardless Cash works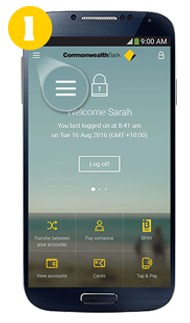 Open the CommBank app and select the Cardless Cash option from the menu.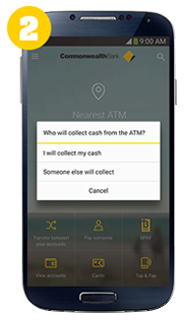 Select whether you or someone else will be collecting the cash.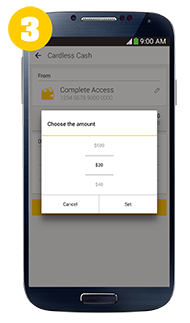 Select the amount and you will receive an in-app Cash Code and Cash PIN via SMS. The cash code is valid for 30 minutes.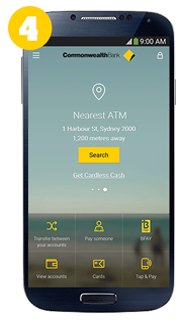 Using these two codes together, you'll be able to securely withdraw cash at most CommBank ATMs without a card.

Security for peace of mind
We'll cover any losses from unauthorised transactions with our 100% Money Back Guarantee.* Just make sure you notify us immediately of any loss, theft, PIN or password misuse, or suspicious activity on your account.

Things you should know:
- Limit of $500 in without a card withdrawals per day from over 3,000 CommBank ATMs. CommBank app, NetBank, NetCode and account access required. Full conditions on app. Terms and Conditions apply.
* The 100% Money Back Guarantee means we'll cover any loss should someone make an unauthorised transaction on your account using the app, provided you protect your phone and PIN and immediately notify us of their loss, theft or misuse, and of any suspicious activity on your accounts.
The CommBank app is free to download however your mobile network provider charges you for accessing data on your phone. The CommBank app is available on Android operating systems 4.0+ and iOS operating system 7.0+. Terms and conditions are available on the app. NetBank access with NetCode SMS required. Apple, the Apple logo & iPhone are trademarks of Apple Inc, registered in the U.S. and other countries. App Store is a service mark of Apple Inc. Google Play and Android are trademarks of Google Inc. Commonwealth Bank of Australia ABN 48 123 123 124.