You can subscribe to receive the latest news from the Commonwealth Bank
The Commonwealth Bank today announced improved benefits to its loyalty program, including a fee restructure for the loyalty program and some amendments to fees relating to the provision of special services. There is no change to standard credit card annual fees or the up to 55 day interest free period.
The Bank offers a range of credit cards to allow customers to choose the one most suitable to their needs and at a cost that reflects the range of benefits offered. The Bank's popular range of credit cards includes:
Card

Benefits

Current Fee

Revised Fee

No interest free days

Available through MasterCard, Visa and Bankcard

Nil

No Change

Up to 55 days interest free

Available through MasterCard, Visa and Bankcard

Annual Fee $24

No Change

Commonwealth Awards Program

Up to 55 days interest free

Available through MasterCard, Visa and Bankcard

Enhanced loyalty program

Annual Fee

$45

$59

An increase of $1.15 per month

Gold Cards

Available through MasterCrad and Visa Gold
Enhanced loyalty program

Annual Fee

$82

$114
The Bank's research showed that many customers value the loyalty program. The program has improved benefits including 'never expire' points, more redemption and bonus partners, combined card usage and reward points statements, and increased flexibility through online rewards information and redemption. At the same time the Bank has made it easier and cheaper to transfer points to Qantas frequent flyer points
Customers choosing to take up or remain with the new Awards program (now called Commonwealth Awards) can use accumulated points to pay the annual fee.
Existing True Awards card holders will be automatically transferred into the new Commonwealth Awards program. They need take no action. A national statement mail out and media information campaign will roll out progressively from 15th October in line with customers' billing cycles.
The Bank has also retained the up to 55 days interest free period on all its Interest Free Period cards, a market leading position.
Cash advance fees have been increased or introduced to reflect the cost of providing these specialist services. Details are in the attachment.
The improved loyalty program will be introduced from 1 November 2003, although the revised fees do not take effect until 20th January 2003.
For further information, please contact:
Bryan Fitzgerald
Commonwealth Bank
Corporate Communication
Ph (02) 9378 2663
Cash Advance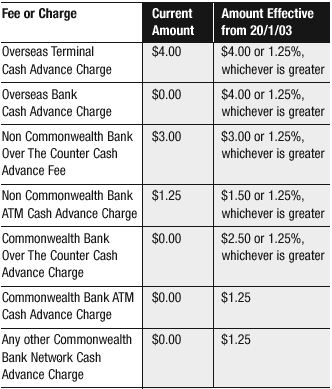 Foreign Currency Conversion
Fee or Charge

Current

Amount

Amount Effective

From 20/1/03

Foreign Currency Conversion Fee

1.00%

1.50%