Business Awards credit card

Get rewarded for separating your business expenses from your personal.
Learn more
Business Gold Awards credit card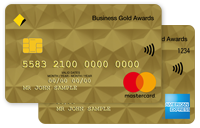 Business Awards credit cards are ideal for small businesses, including sole traders and partnerships.
Learn more
Earn up to 2 points per $1 spent
Benefit from exclusive travel options and an extensive reward program
Business Platinum Awards credit card
Get the best points return and best service with the Platinum Card.
Learn more
Earn up to 3 points per $1 spent
Be rewarded with premium service and premium travel benefits
* Applies to applications received by 7/7/14 and approved by 8/8/14; can be withdrawn at any time at the Bank's discretion; and cannot be used in conjunction with any other offer. Excludes Corporate, Business Liability Business and existing Credit Card accounts. After 10 months from date of card approval, the rate converts to the standard variable purchase interest rate for your card current at that time. Applications are subject to credit approval. A separate variable interest rate applies for cash advances. Full Conditions of Use will be included in our Letter of Offer. Fees and charges are payable.
MasterCard® and the MasterCard brand mark are registered trademarks of MasterCard International Incorporated. PayPass is the trademark of MasterCard International Incorporated. American Express is a trademark of American Express. The CommBank Business Awards American Express(R) Card is issued to the Commonwealth Bank of Australia pursuant to a license from American Express. Commonwealth Bank of Australia ABN 48 123 123 124. Australian credit licence 234945. The advice on this website has been prepared without considering your objectives, financial situation or needs. Because of that, you should, before acting on the advice, consider its appropriateness to your circumstances.