The CANSTAR Agribusiness Award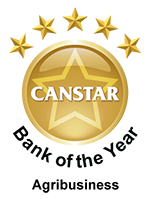 Every year, CANSTAR conducts a detailed assessment of the agribusiness offerings of Australian financial institutions before announcing its annual Australian Agribusiness Award winner. The award is based on a wide range of criteria, from finance product features to customer support, specialised services and online banking functionality.
CommBank won the CANSTAR Agribusiness Award in 2012, 2014 and we are very proud to be named the winner again for 2015.
What sets us apart
We don't just offer an exceptional suite of agribusiness lending options. CANSTAR was also impressed by our:
Outstanding range of services including term lending, overdrafts, credit cards, deposit products, home loans and financial advice
Seasonal funding available for cotton, grain, livestock, wheat and wool
Exceptional customer access through our extensive nationwide branch structure and through our passionate team of specialist agribusiness relationship managers
Full suite of disaster relief and support services including the option to defer loan and credit card payments as well as temporary credit limits for affected customers
Approach to the education aspects of agribusiness by providing education programs for customers – including regular reports and updates on the industry, estate planning information and industry seminars.
Striving to meet our customers' needs
Being the CANSTAR Bank of the Year Agribusiness means understanding our customers, caring about their business success, and knowing how to help them achieve it. It's about a complete package of product, service and insights.

When a client chooses Commonwealth Bank as their business banking partner, they benefit from personal service, local knowledge, industry expertise and market leading finance products.
Our support, insights, technology and expertise work in combination with our specialist products. Our range of agribusiness products is extensive and includes:
Our team
The CANSTAR Agribusiness Award for 2015 reflects the hard work, dedication, passion and expertise of every member of the CommBank team who strive to deliver exceptional customer service.
Your local CommBank team would appreciate the opportunity to discuss your business banking requirements today.