How to deposit money using an ATM
There's no need to go into a branch to make a deposit - you can deposit money securely at any of our instant deposit ATMs.
Deposit money instantly - with a card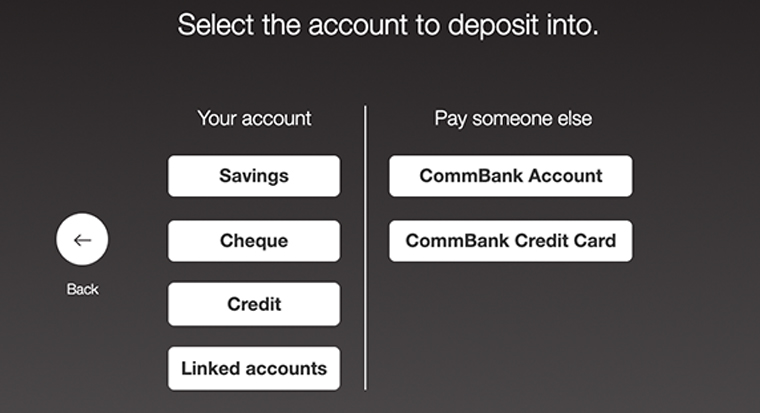 1. Tap Deposit. You can deposit into your account or someone else's CommBank account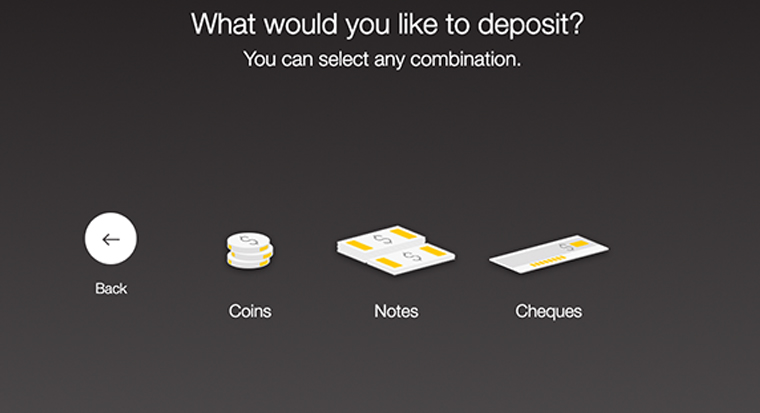 2. Choose what you'd like to deposit. In a single transaction you can deposit notes, cheques, coins (at selected machines) or any combination of these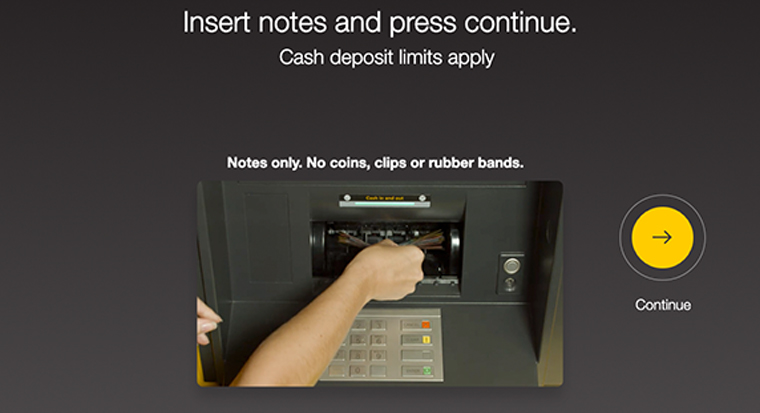 3. Insert your notes, then coins, then cheques. Remove any paper-clips or elastic bands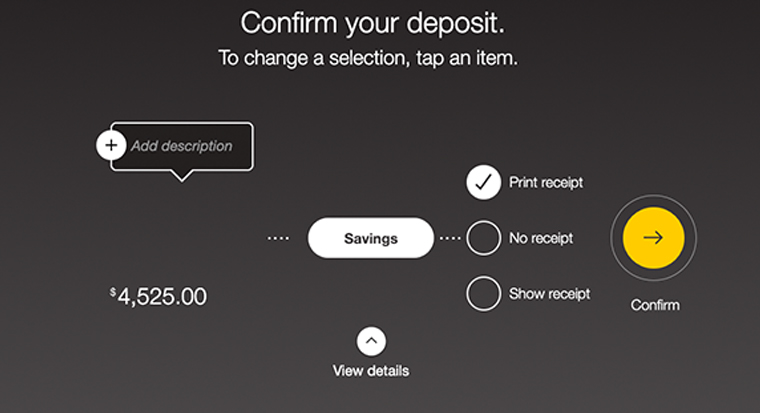 4. Confirm your deposit. Add a description if you like – it'll appear on your statement. Check everything's correct then tap Deposit and you're done
Deposit money with an ATM Deposit Code
Create your ATM Deposit Code online (only available for business accounts)
In the CommBank app: Log on to the CommBank app, tap the top left menu then ATM Deposit Codes
In NetBank: Log on to NetBank and click Transfers & BPAY then ATM Deposit Codes
In CommBiz: Log on to CommBiz, click Accounts then ATM Deposit Codes
Then scan the code and choose Cardless Deposits from the main screen to deposit money at any ATM with instant deposit.
You can also print or send the Deposit Code to someone via SMS or email.
Deposit money using account details
Cardless Deposits with account details can be made up to $1000 per transaction for cash amounts and no more than twice per day per mobile phone number.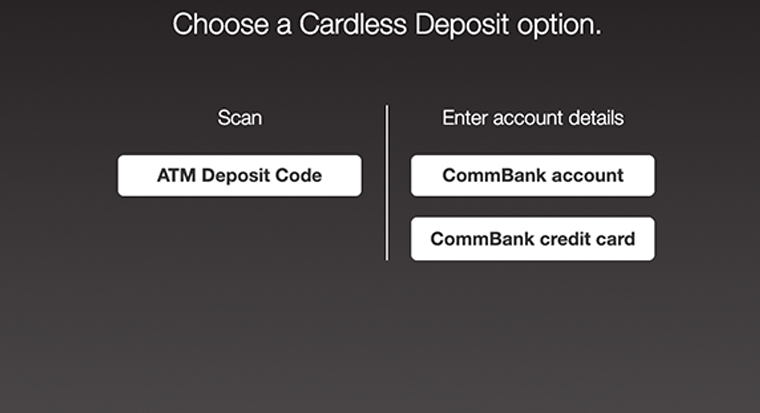 1. Choose Cardless Deposits. Choose to deposit to a CommBank account number or CommBank credit card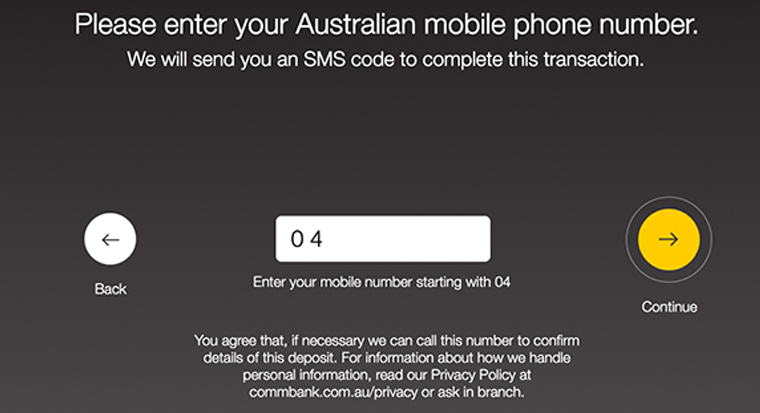 2. Use 4 digit code. Enter your Australian mobile number to get a 4 digit SMS code. Enter that code on the next screen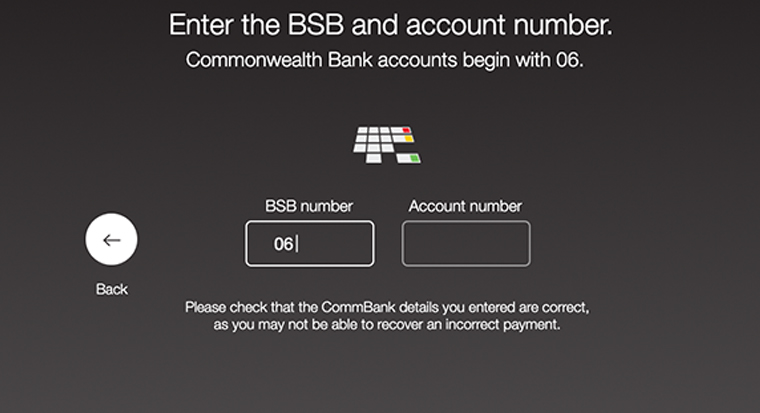 3. Enter account details. Enter your account details - BSB & Account number or a credit card number- to deposit money instantly.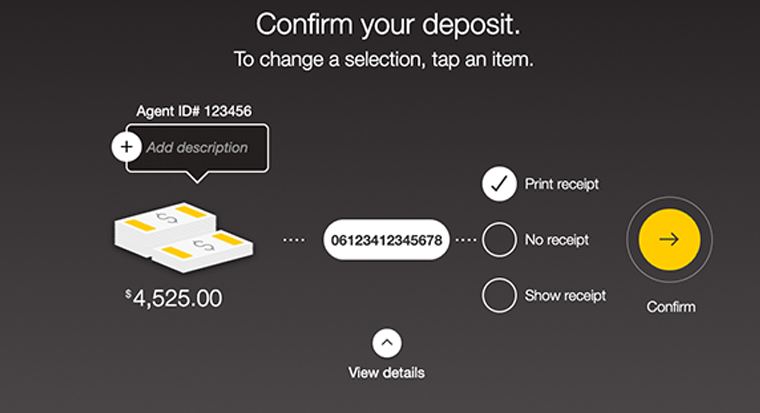 4. Deposit and confirm. Insert your notes, coins and cheques then confirm your deposit
Accessible to everyone
All of our ATMs have touchscreen technology and are audio-enabled helping you to bank independently, when you want.
And you can change the language from English to Chinese, Arabic, Vietnamese, Filipino, Korean or Greek.
ATM audio – plug-in and they'll talk to you
Tactile keypad 
Touchscreen
More about our CommBank ATMs
Use our CommBank ATMs any time. Deposit, withdraw and transfer money instantly. And use them for day-to-day banking too.
Backed by our 100% security guarantee
Our 100% security guarantee protects you from unauthorised transactions on personal and business accounts when you protect how you access your accounts and tell us if something is wrong. 
Things you should know
The target market for this product will be found within the product's Target Market Determination, available here.
Deposit up to 200 notes and 50 cheques without an envelope. Deposit up to 2kg of coins at selected machines. Cheques deposits require the standard clearance days.

A standard $10,000 cash deposit (notes and coins) limit applied per account per day.
Cardless cash is available from any CommBank ATM. Withdrawals are limited to a total of $500 per day.