INTERNATIONAL MONEY TRANSFERS
Why choose CommBank to transfer money overseas?

Your money is transferred through the international banking system straight into your recipient's account.

Send money throughout the world with over 30 currencies to choose from.
How to send money to the UK using a mobile number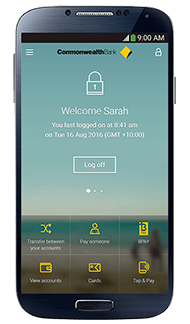 Step 1
Log onto the CommBank mobile app.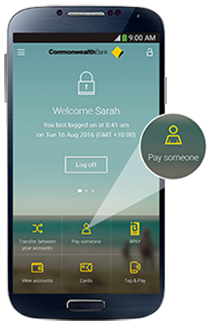 Step 2
Select Pay someone.
Step 3
Paying a brand new recipient: Tap + in the top right, select Overseas transfer, then follow the steps.
Paying someone in the UK with a registered Pingit mobile number: Tap + in the top right, select Mobile number, then follow the steps.
Paying existing address book recipient: Select Overseas transfer, then select the person you're sending money to, then follow the steps.
How to send money overseas
Recipient name and home address
Account name
International Bank Account Number (IBAN) or bank account number
SWIFT or BIC code of their bank (identifies the bank).
If this is the first time you are making an international money transfer you will need to set a daily international transfer limit.
IMT tools and guidance
Use our foreign exchange calculator (select International Money Transfer) to check the foreign exchange rate you'll get. Decide how much you want to send in the overseas currency and see how much it will cost you in Australian dollars.
There's a few details you'll need to give the person sending you money from overseas.
Learn more
Related products
A Travel Money Card is a reloadable prepaid card that holds up to 13 foreign currencies. Lock in exchange rates before you go and reload in real time, fee-free, wherever you are.
Tell me more
A tailored solution for those who regularly send money overseas or need to hold savings in another currency.
Tell me more
Be prepared for your next trip with foreign currency cash. Buy and sell from our extensive range of foreign currencies in various denominations.
Order now
Things you should know
Pingit is Powered by Barclays.
The CommBank app is free to download however your mobile network provider charges you for accessing data on your phone. The CommBank app is available on Android operating systems 4.0+ and iOS operating system 7.0+. Terms and conditions are available on the app. NetBank access with NetCode SMS required. Apple, the Apple logo & iPhone are trademarks of Apple Inc, registered in the U.S. and other countries. App Store is a service mark of Apple Inc. Google Play and Android are trademarks of Google Inc. Commonwealth Bank of Australia ABN 48 123 123 124.