What is SuperGear?
SuperGear is a limited recourse borrowing facility. It allows complying SMSFs to borrow for an investment property (residential or commercial), enabling you to make use of tax concessions available within superannuation. SuperGear requires a minimum loan amount of $200,000.
Find out if you qualify for a SuperGear loan
Benefits

Using SuperGear to borrow funds can help you diversify your portfolio by adding real property assets to your investment mix.

Tax and interest savings can help pay down the loan and build equity faster. There may also be tax advantages for business owners who acquire commercial property in their SMSF.

We can arrange a custodian to hold the legal title to your investment property for the life of the loan, saving you the need to organise one privately for your fund to be compliant.

With SuperGear you'll have access to competitive lending rates, loan-to-value ratios and lending periods.
What you need to know
Borrowing for property within super is different to borrowing to invest outside of super. There are different laws and regulations in place that govern how you can use the borrowed funds and the property itself.
In addition to this, there are risks associated with gearing, because even if your property falls in value, you still have to repay the loan which can have the effect of magnifying unfavourable market moves.
You will need to have sufficient assets in the fund to cover risks such as interest rate volatility, potential decrease in market value of the property, and the possibility that it may be difficult to sell the property when you need to. You will also need to consider how this investment will impact upon the diversification of your fund's portfolio*.
You can learn more about these risks in the SuperGear Product Information Booklet.
Discover more
Do you qualify for a SuperGear loan?
We will consider your application if:
You intend to borrow more than $200,000
Your SMSF will earn enough income to cover at least 125% of the estimated annual interest payments
You have $200,000 or more in net assets in your SMSF prior to purchasing the property
All members of your SMSF are in accumulation phase
You have a corporate trustee structure in your SMSF
Download our SuperGear booklet to find out more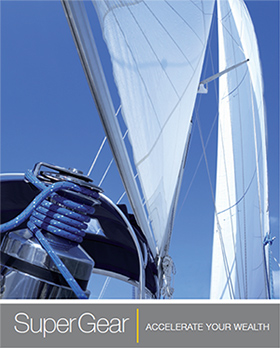 Overview of SuperGear funding process
Read the Product Information Booklet, consider the financial capacity of your SMSF to buy geared investment property and evaluate how this aligns with your fund's investment strategy
Identify the investment property you want to buy and start your due diligence
Get professional advice.
Contact us (details below). You will need to supply an outline of your investment plans, your current SMSF trust deed plus audited SMSF financial statements. You will also need to complete the SuperGear Risk Disclosure & Advice form contained in the Product Information Booklet together with your accountant or financial planner
If the bank pre-approves your chosen investment property, you will receive a SuperGear offer pack setting out loan terms and conditions.
You'll need to advise your Commonwealth Bank relationship manager once you've entered a contract to purchase the property in line with funding approval conditions
You'll then need to appoint a property manager for the investment property from the time of settlement.
Do more with your SMSF
Portfolio - Get a single view of shares, cash and property to build your investment strategy.
Products - Access a range of products to help you manage and invest your retirement savings.
Services - Learn how to set up and run your SMSF, get industry news and financial advice.
Support - Get the product support you need from our trained SMSF specialist team.
Things you should know:
*We recommend you seek your own financial, tax, and legal advice before borrowing to invest in super.
View the latest and most up to date version of the Product Information Booklet (PIB). The SuperGear lending facility is not a financial product as defined and described within Chapter 7 of the Corporations Act 2001 (Cwlth). Also, the information contained here does not take into account the investment objectives, financial situation and needs of any particular individual or self-managed superannuation fund. Because of that, you should assess with the help of legal, financial and taxation advice, whether the information is appropriate in light of your own circumstances before acting on it. Information on taxation is based on current laws and their interpretation. Only investors who fully understand the risks associated with gearing into investments should apply. All applications for the SuperGear lending facility are subject to the Commonwealth Bank's credit approval process. Fees and charges apply.

The offer or invitation to commence a SuperGear lending facility is only available to persons receiving the PIB (whether in paper or electronic form) within Australia, who are Australian residents and who provide an Australian address for service when making their application to commence a SuperGear lending facility. SuperGear applications which do not specify an Australian address for service or which are accompanied by payment drawn from a foreign bank account may be rejected and returned.

The PIB itself is not an offer or invitation in relation to a loan. Applications for a SuperGear lending facility can be made to the Commonwealth Bank and may be accepted or rejected by the Commonwealth Bank in its absolute discretion.

You should read the PIB in full before deciding whether to use the arrangements offered by SuperGear to invest in real property having regard to amongst other things investment objectives and financial circumstances, and the merits and risks involved in the investment. You should seek your own professional advice in assessing the appropriateness of using the arrangements offered by SuperGear to invest in real property.