Take new opportunities with confidence

Compare your performance against your industry, see trends in card sales, identify your busiest times and explore the benefits of managing your foreign exchange exposure.

Discover more about your customers including the percentage of new versus repeat customers, who are the most valuable and how frequently they shop with you.
See how businesses are acting on Daily IQ insights
Daily IQ helped determine the best location for their new store.
Find out more about Daily IQ
Access Daily IQ through CommBiz or NetBank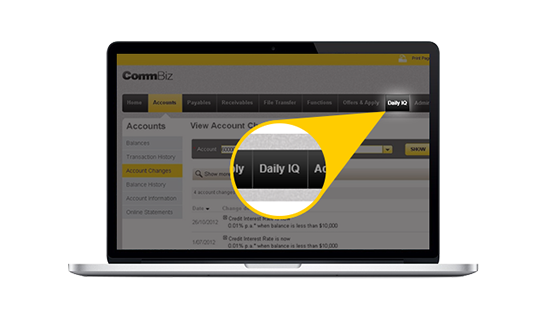 Just select the Daily IQ tab on the top menu bar.
If you don't have a login, your administrator will be able to set you up. For new users apply online or call us on 13 1998.
Login to CommBiz now
Daily IQ is not optimised for iPads or mobile devices.
Important information
Daily IQ has been prepared as a research tool for general informational purposes only and should not be relied on to make business decisions or for account reconciliation. The information may be incomplete or not up to date and may contain errors and omissions. Any projections and forecasts are based on a number of assumptions and estimates, including future events and contingencies, which may be inaccurate.
Commonwealth Bank takes its responsibility to protect the privacy of its clients very seriously and applies strict security and privacy controls to the way it handles information. This has been applied to Daily IQ.
The Performance module (Industry Sales Comparison, Busiest Times and Total Card Sales) and Customer modules within Daily IQ are only available to CommBiz and NetBank customers with a CommBank merchant facility settling into a CommBank settlement account.