What is PayID?
Send quick and easy payments in real time1

PayID is a memorable piece of information such as your mobile number or email address, that you can link to your bank account to receive payments

Once linked, you can simply provide your PayID for payments instead of handing out your BSB and account number

If you need to pay someone who has registered for PayID, you'll only need their PayID to transfer money directly into their bank account
Are you a business owner? You can also use PayID to receive payments to your eligible CommBank business transaction accounts.  Tell me more

What is an Osko® payment?
Osko by BPAY® is a secure payment service which enables you to send and receive near real-time payments on the New Payments Platform
The service is available within the CommBank app
You won't need to look for Osko®, as you'll automatically be using the service when it is available
When you send or receive a payment you may see the Osko® logo in your payment confirmation or account transaction history. This indicates that the payment was sent via the New Payments Platform (NPP) infrastructure using Osko®.
Why use PayID?
Transfer money to friends and family using their PayID as quickly and easily as you transfer money between your CommBank accounts.
Fast: Near real-time1 payments across participating banks
Easy: Easier to remember than your BSB and account number 
Mobile: Available through the CommBank app
Secure: Backed by our 100% Security Guarantee
Simple registration: A few clicks and you're ready
First time payments to a new payee may be held for up to 24 hours as a security measure.
How it works
To receive payments you'll need to register your mobile number or email address as a PayID using the CommBank app or NetBank. It only takes a couple of minutes.
Friends and family will then be able to pay you through their own bank's mobile or internet banking using your PayID.
To send payments to someone else, they just need to provide you with their PayID.
This may be their mobile number however other PayID types may include email, ABN, ACN and landline phone number, depending on their bank.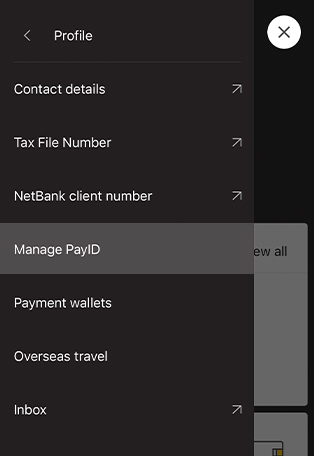 1. Log on to the app and select 'Profile', then 'Manage PayID' from the top-left menu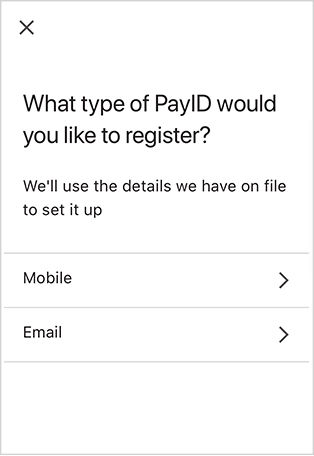 2. Choose which type of PayID you'd like to register. Then follow the prompts.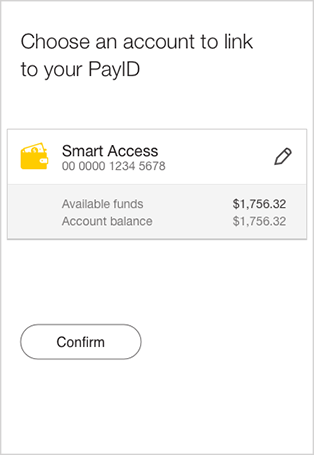 3. Choose an account to link to your PayID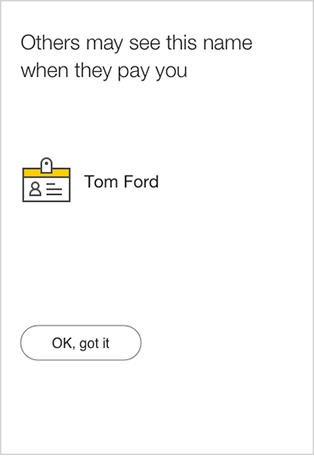 4. Confirm the name others will see
You'll be asked to confirm your new PayID details and verify your mobile number or email address by entering the NetCode we'll send you. Once completed you'll receive an email confirming that your registration has been successful.
Safe & secure
Security features
PayID is a key feature of the New Payments Platform infrastructure designed to enable fast, safe payments between participating financial institutions. We've been working with the other Australian banks to ensure that payments are just as secure as the payments you make today.  In addition, CommBank customers benefit from a number of security features including:
NetCode SMS or NetCode email notification for email address verification
Real-time fraud checks and holds to new payees
Email safety
You'll only be able to register a PayID for a CommBank account by first logging into the CommBank app or NetBank.
We will never send you emails asking you to confirm, update or disclose personal or banking information. If you receive an email that looks like it's from us that you believe may be a hoax, please forward it as an attachment to hoax@cba.com.au
How private is my PayID?
We won't disclose your mobile number or email address. The PayID name you choose may be displayed to someone when they make a payment to your PayID.
Backed by our 100% security guarantee
Our 100% security guarantee protects you from unauthorised transactions on personal and business accounts when you protect how you access your accounts and tell us if something is wrong. Tell me more.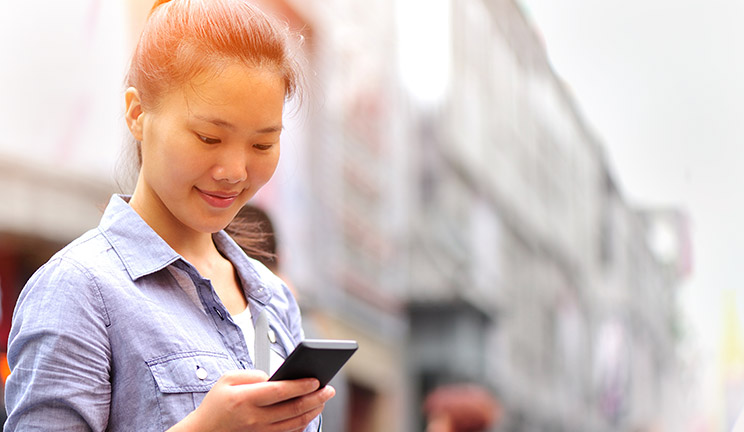 Things you should know
There are four types of PayID: phone number, email address, ABN/ACN and organisational ID. We offer mobile number and email address as PayID via NetBank and the CommBank app. Our business customers can register an ABN/ACN PayID by contacting us. 
1 For security reasons, a hold may apply on first time payments. The delay allows fraud security checks to take place and gives you time to alert us to unauthorised or suspicious activity on your account. Subsequent payments should be received in under a minute.
2 To prevent fraud we can only allow you to register the primary mobile number already linked to your CommBank customer profile. If you'd like to use a different mobile number or need to update your details please call 13 2221.
® Registered to BPAY Pty Ltd. ABN 69 079 137 518
The target market for this product will be found within the product's Target Market Determination, available here.
View our full terms and conditions here: www.commbank.com.au/digital-banking/pay-id/terms-and-conditions.