In mid-2017, our National Health Team travelled across Australia to ask 50 GPs, specialists and medical service professionals how we could help improve their lives by removing pain points they experience day to day. We then worked with them to design innovative solutions for some of the most pressing issues impacting their practices. Here's what we learned.
It's no secret that Australia's healthcare system is under pressure. Service providers face unprecedented demands for quality care, at a time when governments are seeking to do more with less.
Yet how often do we hear directly from the people most immediately impacted by the changing nature of healthcare — the dedicated practitioners who keep the system running, making life-changing decisions every day?
To better understand their challenges, our specialist National Health Team recently visited GPs, specialists and medical professionals across Australia. Our aim was to gain an insight into the issues keeping medical practitioners awake at night, so we could apply the Bank's innovation and technology capabilities to help solve them.
We started with one simple question: "How might we improve the lives of Australian doctors?"
Insights from the frontline
Healthcare is an incredibly diverse sector, encompassing everything from solo practices to corporatised centres with multiple practitioners and sophisticated support systems. Nonetheless, whoever we spoke to, a few key themes shone through:
Cost pressures. Practitioners are being asked to provide a consistently high level of care to an increasingly demanding and rapidly ageing population, without more money being invested in the system. Many see the current fee for service model as unsustainable – yet until a viable alternative arises, they must find ways to operate more efficiently
Time pressures. For doctors, time is the resource in shortest supply. Many feel the pressure to practice "six-minute medicine" undermines good outcomes for patient and practitioner alike.
Involuntary entrepreneurs. Patients are doctors' number one priority — so while developing and maintaining a business is important, it isn't their core concern. That means simple and transparent business solutions are essential.
A need for expert support. Doctors are incredibly dedicated to helping others, yet they often feel there's no-one caring for their needs. They also recognise the importance of a range of biopsychosocial factors in determining overall wellbeing, including the impact of financial health on psychological and social wellness.
Turning insights into solutions
Our next step was to turn those insights into solutions, working in partnership with medical practitioners to prototype and assess ideas for further development.
To do that, we enlisted our Innovation Lab, and brought together a multi-disciplinary group of GPs, medical specialists, practice managers, allied health professionals, design engineers, usability experts, healthcare bankers and related professionals.
Together, we developed a shortlist of potential solutions through the discipline of design thinking[1]: a human-centred approach to innovation that integrates the needs of people, the possibilities of technology, and the requirements for business success. Design thinking underpins an agile approach that generates immediate results through rapid prototyping and testing..
The aim is to find solutions that score highly across the three critical dimensions of desirability, feasibility and financial viability.
Three critical dimensions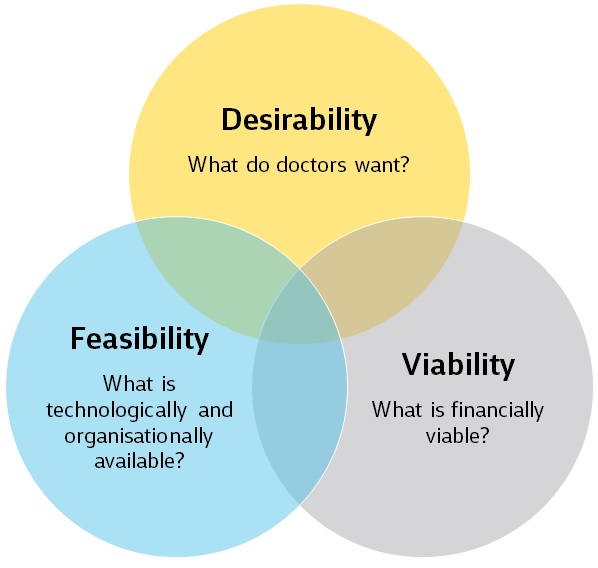 Identifying solutions for further development
From an initial list of 500 ideas identified in initial ideation sessions, the team selected six solutions for prototyping, then rated each prototype for desirability and feasibility. Each solution was designed to address one or more of the pain points highlighted in our initial consultations with the profession, while supporting a transition to the digitally enabled, integrated care models of the future.
By the end of the design thinking process, we had identified and prototyped four solutions for further investigation and development: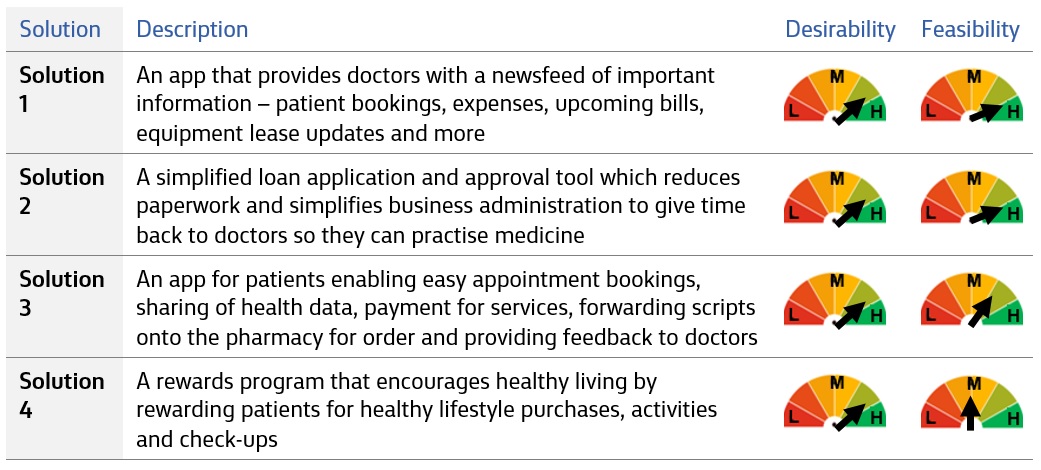 Creating innovations to support doctors' wellbeing
For all of us in the National Health Team, the opportunity to work in close partnership with medical practitioners and their professional advisers allowed us to achieve significant results in a very short time. This initial collaboration was only a first step.
We will continue to partner with the medical community to develop innovations designed to support doctors' overall wellbeing— and we'd love to hear from you. To give us your feedback, or to learn more about how we can help your business succeed in an evolving market, request a confidential consultation or talk to your CommBank Relationship Manager.
For more information please visit commbank.com.au/healthcare
Cameron Ziebell
National Head of Healthcare
Business & Private Banking
Commonwealth Bank of Australia
[1] David Kelley, founder of IDEO and the Stanford school < https://www.ideou.com/blogs/inspiration/david-kelley-on-design-thinking>