Most credit cards offer an interest-free period on purchases up to a certain number of days. This period is the maximum amount of time between you making a purchase and then being charged interest – as long as you don't already owe money on your credit card.
Being able to buy now and then pay later is one of the biggest advantages of a credit card. So how can you make the most of the interest-free period?
What is interest?
Interest is the cost associated with borrowing money through your credit card account, and is expressed as an annual percentage rate. The purchase interest rate is the one most commonly advertised by lenders, and refers to the rate charged on purchases made with the credit card if an interest free period doesn't apply.
What is an interest-free period and how is it calculated?
An interest-free period is a period of time in which no interest is charged on a new purchase, provided you've already paid off your previous statement's balance in full by its due date and you pay off your current statement balance in full by the due date.
Most credit cards offer an interest-free period of up to a certain amount of days. This figure is the maximum number of days you won't be charged interest, and depends on when you make your purchase within the statement cycle (see the flowchart1 below).
With CommBank, for example, each statement period runs for about 30 days and there is then 25 days from when your statement period finishes to the payment due date. This is why all CommBank credit cards offer an interest-free period of up to 55 days (apart from our Business Low Rate card). If you're eligible for an interest free period, the minimum number of interest-free days you'll have is 25 days.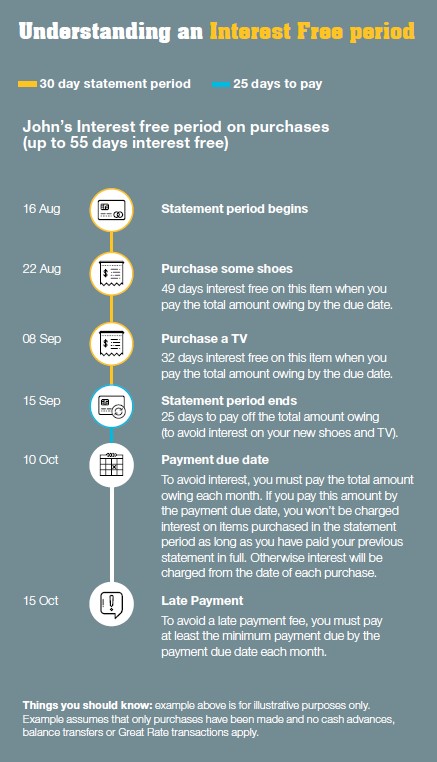 How to take advantage of the interest-free period
Pay your balance off in full each month
Set reminders to make sure you pay your balance in time or use AutoPay
Try to plan your spending so you make any bigger purchases at the start of the statement to give yourself more time to repay them