World class business security
Protecting your accounts & information
Our security capabilities and team of experts work 24/7 to protect your accounts and information. Our range of tools and information can help you do the same.
Security features for peace of mind
Businesses that use CommBiz can benefit from the added security of the NetLock USB device.  As long you are using NetLock and follow a few basic security precautions, we guarantee to refund losses as a result of fraudulent transactions.1
Merchant security hub
Fraud is on the rise, and can happen to any business that accepts payments. Learn the steps that you and your employees can take to help protect your business from merchant fraud.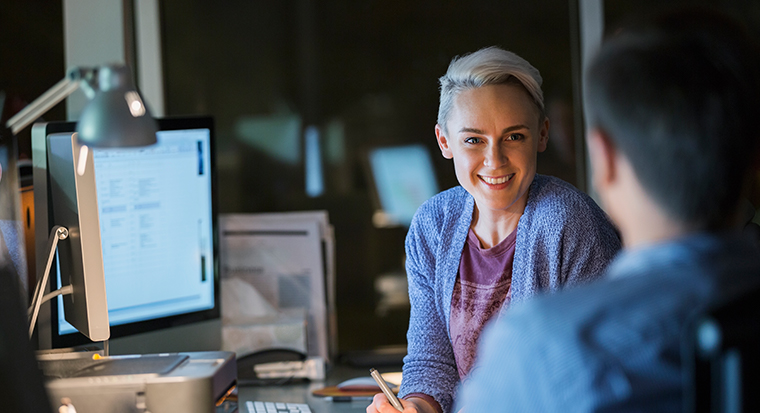 Free cyber eLearning
Support your staff to protect your business
While cyber security may seem daunting, there are steps businesses can take to protect themselves from this emerging risk.
We've created a free cyber security eLearning to equip you and your staff with the knowledge to help protect your business. The eLearning modules include guidance on email security, browsing the web, shopping and banking, password security, security on the move and email payment fraud.
Follow these steps to access the eLearning:
Register through the link below.
Download the EdApp mobile (iOS or Android) app through the App Store or Google Play StoreTM.
Share the eLearning with your staff, simply send them the EdApp welcome email you'll receive when you register. 
Practical cyber security for business
The cost of cybercrime to the Australian economy is increasing every year, and every day we hear stores from customers, including business customers, who are dealing with the financial and emotional costs of cybercrime.
In this special panel discussion, Keith Howard, Denis Moriarty and Professor Lesley Seebeck discuss the types of cyber threats that many businesses are facing, why it's important that businesses consider cyber security and practical, cost-effective steps businesses can take to improve their security.
Additional information to support your business 
Things you should know


1 To take advantage of the NetLock security, CommBiz token holders must be identified. Identified CommBiz token holders are users that have had their identity verified by the Bank. New and existing users can be identified by going to the Admin tab in CommBiz, selecting the specific user and then selecting the 'identification' tab.
2 NetLock devices are currently being provided free of charge for all CommBiz uers, however we reserve the right to charge this fee if you order the NetLock device but do not use the NetLock device.
Your NetLock USB device should not be used as a data storage device as this will destroy its operation.
As this advice has been prepared without considering your objectives, financial situation or needs, you should, before acting on this advice, consider its appropriateness to your circumstances. Terms and conditions issued by Commonwealth Bank of Australia for CommBiz. View our Financial Services Guide. If you have a complaint, the Bank's dispute resolution process can be accessed on 13 2221.