Commonwealth Banking Corporation (1960 – 1991)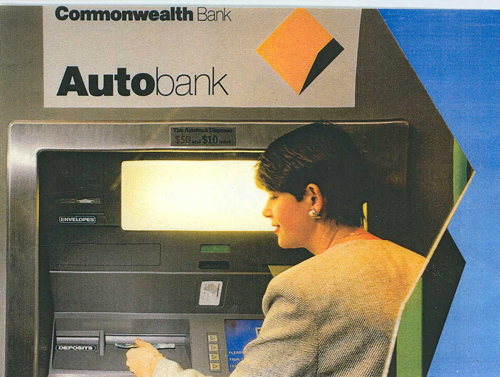 Many significant banking developments occurred throughout the 1960s. The Commonwealth Bank celebrated its Golden Jubilee in 1962, Saturday morning trading ceased, employment of part-time staff began and improved career opportunities for women became available. Decimal currency, Christmas Club Accounts, personal loans and variations on traditional savings accounts were introduced.
Diversification
During the 1970's, our operations expanded into the fields of home insurance and travel (1974) and we formed our own finance company, Commonwealth Bank Finance Corporation Ltd (CBFC), the following year. During 1988, the Commonwealth Bank entered the managed investment and life insurance arena with the establishment of wholly-owned subsidiaries Commonwealth Life Ltd and Commonwealth Management Services Ltd.
Computerisation and changing face of banking
Mechanisation had gradually replaced traditional hand posting methods in use since the Commonwealth Bank's foundation. In December 1969, we introduced the 'Black Light' Signature System, which recorded 'invisible' signatures in passbooks enabling withdrawals at branches other than the customer's own without making prior arrangements.
Computers started to change the way internal processes, telling facilities and routine operations were conducted. Our online computer network was complete on 15 July 1985 when the Norfolk Island branch joined in. Plastic credit and debit cards began to be used as the basis for transactions, starting with the launch of Bankcard in 1974, then Keycard in 1981. The Commonwealth Bank affiliated with Visa International and Interbank Card Association (Master Charge) in 1979.
Automatic telling machines (ATMs) began with Autobank, launched in 1981. EFTPOS (Electronic Funds Transfer at Point of Sale) commenced in 1984. and electronic home and office banking became available in 1985.
Overseas activities and dealings
Whilst the island branch network was being handed over to established local banking institutions – in Papua New Guinea (1974) and Solomon Islands (1981) – important points of representation were opened in New York, Tokyo and Singapore. We widened our foreign exchange dealings and provision of services for customers engaged in business overseas. During February 1989, the Commonwealth Bank acquired a 75 per cent share in the New Zealand-based ASB Bank Ltd (expanded to 100 per cent in 2000).
Deregulation of the banking industry
Deregulation of the banking industry and the subsequent entry of foreign banks into Australia in the mid-1980s posed significant challenges. These were met initially with restructuring of the Commonwealth Bank's internal organisation. New products and services were developed, targeted to meet the requirements of groups outside our traditional customer base. This process culminated in the organisation's conversion from a government-owned entity into a public company.
Merger with State Bank of Victoria
On 26 August 1990, the Commonwealth Bank entered into an agreement with the Treasurer of Victoria for a merger with the State Bank of Victoria (SBV). The Commonwealth Bank became the successor in law to SBV on 1 January 1991, creating Australia's largest domestic bank and further strengthening the Commonwealth Bank's leadership in retail branch banking.