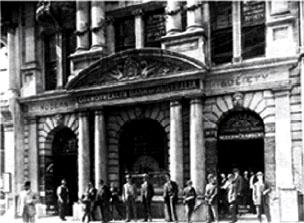 The Commonwealth Bank of Australia was founded under the Commonwealth Bank Act 1911. The organisation was empowered to conduct both savings and general (trading) bank business, with the security of a Federal Government guarantee. At that time no other institution in Australia was involved in both of these traditionally separate areas of banking, nor did any other bank have a Federal Government guarantee.
The first Governor, Mr (later Sir) Denison Miller, headed a staff of twelve when the Commonwealth Bank opened for business on 15 July 1912. Savings bank facilities were offered at its solitary branch, 317 Collins Street, Melbourne (Modern Chambers), and through 489 agencies located in post offices throughout Victoria. During the following year, capital city branches and postal agencies were established across Australia. The infrastructure and customer base expanded after mergers with State Banks in Tasmania (1912) and Queensland (1920).
During World War I, the Commonwealth Bank assisted other federal authorities to organise war loans, primary production pools and a merchant shipping fleet. It also provided regular banking services to thousands of servicemen both home and abroad. Many of our male staff volunteered for active service and women began working in areas of the organisation previously closed to them.
In 1916, the Commonwealth Bank's headquarters moved from Melbourne to newly-built premises on the corner of Pitt Street and Martin Place, Sydney, a building which was used in the design of our moneyboxes for many years. In 1990, the Commonwealth Bank's headquarters relocated to 48 Martin Place, Sydney.