Privatisation (1991) and subsequent developments
The Commonwealth Banks Restructuring Act of 1990 converted the Commonwealth Bank from a statutory authority to a public company with conventional share capital and part-Government ownership. On 17 April 1991, the organisation became a public company with a share capital governed by the Corporations Law but subject to certain overriding provisions of the Commonwealth Banks Act 1959. The Commonwealth Bank was fully privatised in three stages from 1991 until July 1996.
Focus on customer service
Beginning in September 1993, the centralising of back-office processing from branches, led to the establishment of Central Processing sites in all States. This restructuring of the Branch network gave staff the opportunity to focus exclusively on retail customer service. Business Banking Centres were established in 1994 and Customer Service Centres were opened Australia-wide in capital cities in 1993-1994. The Customer Relationship Model (CRM) was introduced into branches from August, 1994. This featured uniform branch interior design and new ways of interacting with customers. In 1997 the Relationship Management Program was introduced which provided a personalised and dedicated level of service through Relationship Managers to the Bank's High Value Clients (HVC).
The Which New Bank (2003) program aimed at "great customer service, engagement of people and simplified process". In September 2005, customer service was made a strategic priority by new Chief Executive Officer, Ralph Norris. A new business unit, Group Sales and Service Support, established in April 2006, had the purpose of imbedding a service and sales culture across the Group.
Advances in technology
New information technologies also impacted our interaction with customers. A computerised customer service program, ASSIST, was initiated in May 1992. CommSee, the Commonwealth Bank's new customer service system, began by supporting our premium customers and has developed as a relationship management service model aimed at providing a single view of dealings with individual customers, accessible from any branch across the network. In December 2003, a decision was made to implement CommSee across the organisation with the national rollout completed in December 2005.
The Core Banking Modernisation (CBM) program in 2012, modernised the Group's core banking systems and processes and introducing a world class technology.
Automated banking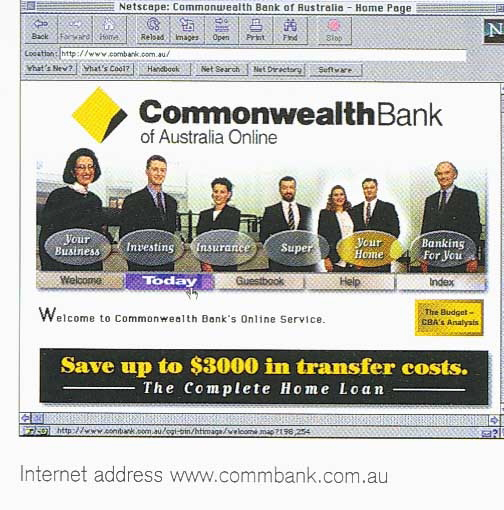 The Maestro and Cirrrus services were introduced in April 1993, enabling worldwide EFTPOS, Keycard and credit card transactions. The Commonwealth Bank's internet site was launched on 29 September 1995 and, on 28 February 1997, NetBank was launched as a totally online service, offering 24-hour internet transaction banking services. Commonwealth Securities Limited (CommSec), a new stockbroking company, was established on 25 July, 1995, initially as low-cost telephone based and by 2008 had won the AFR Smart Investor Ribbon Award for 'Online Broker of the Year – Fully Featured'.
Strengthening the customer base
Institutional Banking was established in 1990 and drew together the Commonwealth Bank's various 'wholesale' activities under one unit providing a more focused approach to larger organisational and corporate customers. A restructure in 2002 provided niche services for premium and business customers as well as refocusing services for institutional customers. In 2004 Private Client Services became Commonwealth Private Bank, catering to the financial needs of high net worth and high income earning individuals. Since 2006, with the Business Growth Strategy, one of the key priorities for the Bank's strategic vision is to expand business banking.This is done with local business bankers with specialised staff working in local communities, corporate and business customers with more complex needs serviced through a relationship manager and the delivery of total capital services (TCS) to institutional clients.
Colonial merger (2000) and development as a Financial Institution
In June 2000, the Commonwealth Bank acquired the Colonial Group of companies which provided us with a well-established asset management capability, strong distribution breadth, a pre-eminent wealth brand, and a leading life insurance and property position in the market. A new Investment & Insurance Services division was established in 2002 to incorporate the Colonial brand of companies which included managed funds, master funds, superannuation and insurance products, as well as the support of third party financial planners.
The Investment and Insurance Services division was later renamed Wealth Management to more accurately reflect the nature of the business. The Commonwealth Bank has become a financial services institution in the broadest sense.
Expansion into Asia
In February 2002, International Financial Services was established to unite numerous offshore operations within the one division and to leverage our existing expertise into target global markets. Products also included Asian insurance and New Zealand and the Pacific banking and insurance. By 2005, the Commonwealth Bank's regional expansion strategy was focused on the Asia-Pacific, particularly China, India, Indonesia and Vietnam, where the demand for financial services was experiencing particularly rapid growth. This expansion was illustrated in 2005 by joint ventures with two Chinese banks, the Jinan City Commercial Bank (now Qilu Bank) and Bank of Hangzhou (HZB). A branch was opened in Shanghai, China, in March 2010 and the Bank's North Asia office is relocating to Shanghai at the end of 2010. In August, 2010, a branch opened in Mumbai, India, as a step towards creating a commercial banking business there. In 2007 the Group's first merger in Asia was completed with the acquisition of the Bank Arta Niaga Kencana (Bank ANK) which doubled the staff and retail branch network of PT Bank Commonwealth, Indonesia, and continues to grow. A branch opened in Ho Chi Minh City in August, 2008 and in September, 2010 the CBA Group and Vietnam International Bank (VIB) completed arrangements for a joint partnership.