Why use our ATMs?
All our ATMs, located in branch and off-premises, are audio-enabled and have tactile keypads, so you can bank independently when you want.
Discover more
Withdraw with or without a card
Check your balance
Print recent transactions
Transfer money between your linked accounts
Set your favourite withdrawal
Change your PIN
Change from English to Chinese, Arabic, Vietnamese, Filipino, Korean or Greek
Find nearest ATM
ATM with instant deposit
Our ATMs with instant deposit allow you to put money straight into your account, even when the bank is closed.
Note, cheque and coin deposits go into your account instantly (cheques subject to normal clearance days)
Deposit up to 200 notes and 50 cheques without an envelope
Deposit up to 2kg of coins at selected machines
From 10 April 2018, personal and business accounts have a standard $10,000 cash deposit (notes and coins) limit applied per account per day
Make a payment into someone else's CommBank account
Deposit with account details – no card is required to deposit into CommBank accounts; just the account details. Deposit up to $5,000 (notes and coins) for each transaction.
ATM Deposit Code – a reusable and scannable code that holds your prefilled details so you can deposit conveniently into CommBank accounts.
There are limits to the number of codes that can be set up:


NetBank/ CommBank app: 2 codes per personal account and 30 codes per business account
CommBiz: 2 codes per personal account and 300 codes per business account

Use the same code up to 5 times per day
How to deposit money instantly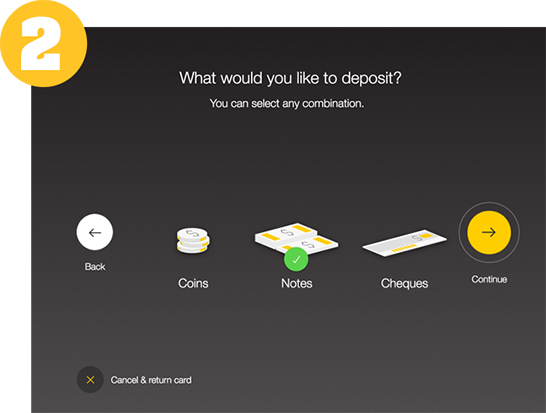 In a single transaction you can deposit notes, cheques, coins (at selected machines) or any combination of these.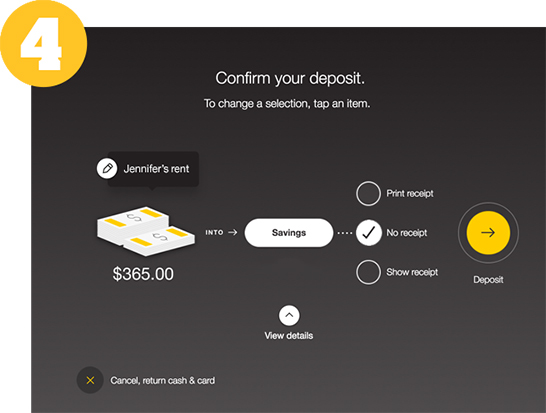 Add a description if you like – it will appear on your statement. Check that your details are correct then tap Deposit and you're done.
100% security, guaranteed