Features & benefits
Personalised rewards
We'll send you shopping rewards based on where you've shopped before, and similar places we think you'll like.
Earn cashback
You'll receive your cashback into your account within 5-14 business days.
Track your savings
Track how much you've saved over 12 months using CommBank Rewards.
Get notified
We'll let you know when new rewards are available for you.
Claim your CommBank Rewards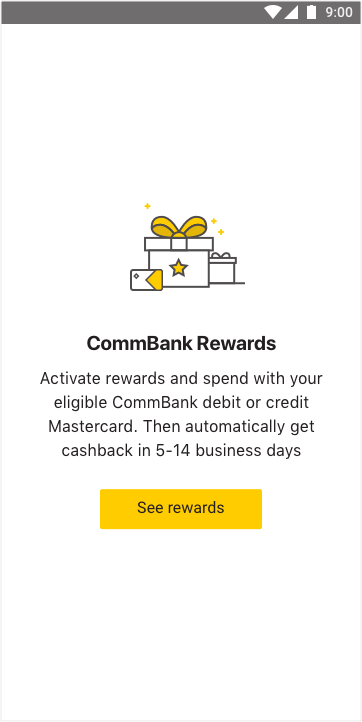 We'll send you personalised rewards in the CommBank app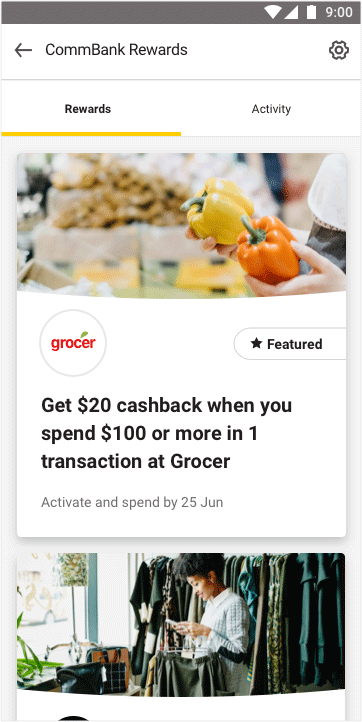 Choose and activate rewards
Spend using your eligible1 card and tap or select credit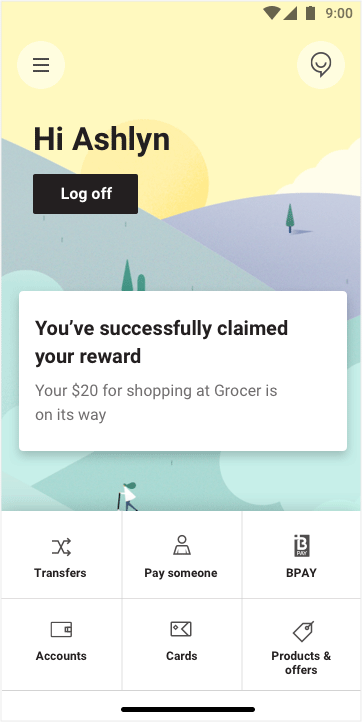 We'll send you notifications when your cashback is on its way
Things you should know
1 You can claim cashback rewards when you tap or select credit using all CommBank cards except Travel Money, Corporate Credit, Business Debit and pre-paid Mastercards.
If you're an additional cardholder of an eligible card, you can contribute to rewards received by the primary cardholder
Payment platforms such as Afterpay, Zip, and PayPal aren't eligible for cashback, except in cases where rewards are provided for a specific payment platform. 
We'll show you rewards if you have an eligible card, are over 18 and have an Australian home address. We'll stop sending you rewards if you opt out in the feature
2 CommBank rewards are only eligible at participating store locations. Check the 'participating stores' section of your reward on the app for more information. You must spend the required minimum amount in one transaction to be eligible for cashback.
The target market for this product will be found within the product's Target Market Determination, available here.
The CommBank app is free to download however your mobile network provider charges you for accessing data on your phone. Find out about the minimum operating system requirements on the CommBank app page. Full terms and conditions available on the CommBank app. NetBank access with NetCode SMS required. Apple, the Apple logo & iPhone are trademarks of Apple Inc, registered in the U.S. and other countries. App Store is a service mark of Apple Inc. Google Play and Android are trademarks of Google Inc. Commonwealth Bank of Australia ABN 48 123 123 124.