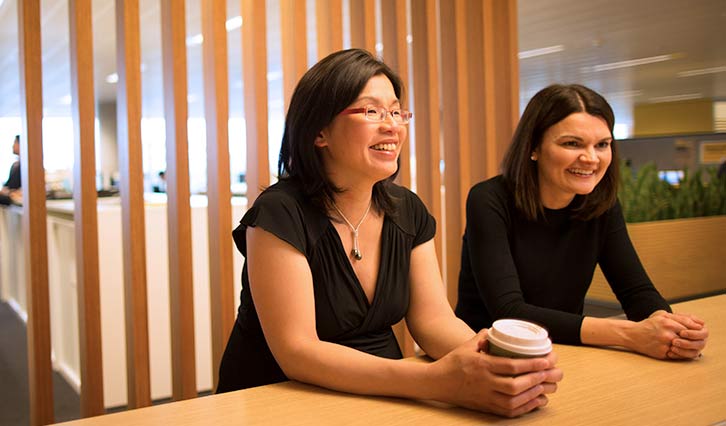 Lucy and Cynthia job share the role of Program Director for the retirement project. It's an arrangement that they know benefits CommBank, and has potential to change the lives of many other employees, especially women.
For Cynthia, job sharing can open up a lot more opportunities for people who wouldn't take on a role full time:
"It's an avenue to allow women in our situation – raising and wanting to raise families – to be able to grow professionally and not be sidelined. It's very different from the approach of 'Have your family and come back when you're ready to commit all your life and energy to work again'. At CommBank we have commitment to, passion and support for women to do this and as a result we can have the best of both worlds."
Lucy agrees, "It's one of the reasons I joined CommBank in the first place; because I knew they were open to flexible working. I can develop my career, spend time at home and I get to be a role model – not only for others at work, but more importantly for my daughters. I'm showing them you can do whatever you want if you put your mind to it.
"It's the ultimate solution for the working mother of the future. It's allowed me to get to where I always wanted to get to, career-wise and at home, however it's not limited to women. I genuinely believe anyone can job share any role. In fact by not allowing job share arrangements organisations can lose a large amount of talent; people who don't want to work full time or who work part-time but are not fulfilled by the roles available will leave."