Coenraad (Coen) Jonker
Group Executive, International Financial Services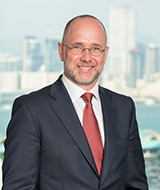 Coen Jonker is the Group Executive, International Financial Services (IFS), responsible for the Group's offshore retail banking, digital banking and life insurance businesses outside Australia and New Zealand. Coen leads a team focused on delivering financial inclusion to increase economic participation and inspire financial wellbeing. IFS is redefining traditional banking to build a disruptive, digital bank for underserved consumers and small business customers in our international markets.
The IFS portfolio currently includes the Group's proprietary operations in Indonesia, South Africa and Vietnam, as well as investments in Chinese and Vietnamese retail banks, a joint venture Chinese life insurance business, and life insurance operations in Indonesia. Coen commenced his role in July 2017 and is based in Hong Kong.
With more than 23 years' experience in legal, financial and professional services, Coen began his career in law and became the CEO for Edward Nathan, Africa's largest law firm, in 2000. He has also served as the Executive Committee of Nedcor Investment Bank, and as the Director of Inclusive Banking at Standard Bank in South Africa.
Coen holds an MBA and two law degrees with honours. He has held multiple Board positions, including eBank Namibia, TYME, Edward Nathan and more recently Vietnam International Bank (VIB). Coen's other contributions include his role as Advisor to the Gates Foundation on Poverty Alleviation, and a lecturer in Corporate Governance & Ethics and Emerging Markets at the Gordon Institute of Business Science.
Prior to joining the Group, Coen was the co-founder and CEO of TYME (Take Your Money Everywhere) – a South African FinTech start-up which CBA acquired in 2015. Before commencing as Group Executive IFS, Coen was the Executive General Manager responsible for the digital banking strategy across IFS.