Rob Jesudason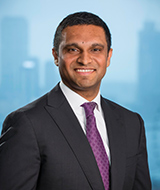 Group Executive, Financial Services and Chief Financial Officer
Rob Jesudason commenced as the Commonwealth Bank of Australia's Group Executive, Financial Services and Chief Financial Officer in July 2017. He is responsible for CBA's financial management frameworks incorporating the areas of finance, audit, group treasury, security, property and investor relations.
Rob joined CBA in 2011 as Group Executive, Group Strategic Development. From 2015, Rob was the Group Executive, International Financial Services based in Hong Kong. In this role, Rob was responsible for managing the Group's offshore growth in retail and commercial banking, digital banking and life insurance in China, India, Indonesia, Vietnam and South Africa.
Prior to CBA, Rob worked at Credit Suisse where he was Head of Global Emerging Markets within the Financial Institutions Group (FIG) investment banking practice. Before Credit Suisse, Rob worked at JPMorgan where he was a Managing Director in the Asian Special Situations Group responsible for investments in financial services, and at Barclays as Global Head of Corporate Development. Earlier in his career, Rob worked at GE Capital and McKinsey & Company.
He holds a Bachelor of Science in Managerial and Administrative Studies from the University of Aston in Birmingham, UK.