House prices in Sydney have surged by more than 14% in 2016 as the city looks set to finish the year with double-digit annual growth following a relatively slow start.
In the 10 months to 31 October, Sydney house prices went up 14.3% while unit values increased by almost 10% over the same period, according to the latest figures from CoreLogic's monthly Home Value Index.
Combined, dwelling values in the NSW capital are up 13.5% since 1 January to a median of $800,000.
The figures stand in contrast to the first quarter of 2016, when Sydney's year-on-year (YoY) price growth had moderated to 7.4% from a high of 18.4% over the year to July 2015. The Reserve Bank of Australia (RBA) has cut the official cash rate twice since May to a new record low of 1.5%.
Melbourne has also enjoyed a strong year of almost 12% year-to-date (YtD) value growth across combined dwellings. But while Melbourne house prices are performing comparably to Sydney's, its YtD value growth of 3.9% for apartments is well shy of Sydney's 9.7% increase.
Beyond Melbourne and Sydney
The other capitals showing decent price growth for 2016 have been Canberra, where dwelling prices are up 9.6% since 1 January (and 7.9% YoY), and Hobart, up 6.7% (5% YoY).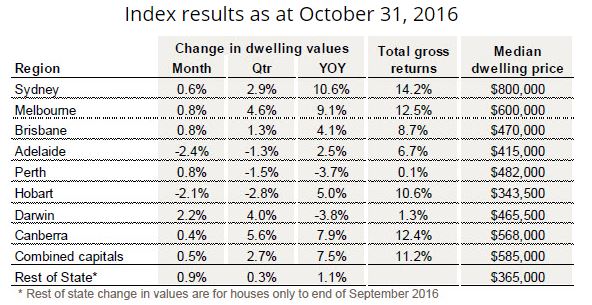 Source: CoreLogic Home Value Index.
CoreLogic research director Tim Lawless said "the strong conditions across the Canberra market are largely related to rising house values, with unit values increasing at less than half the pace of detached housing" – a trend replicated in Melbourne, Brisbane and Adelaide.
"In most... markets [other than Sydney], detached housing is generally outperforming the unit sector as concerns around the high number of units available for sale in the market dent buyer confidence, coupled with lending policies for unit stock becoming tighter," he said.
Value growth in Adelaide and Brisbane has been more subdued compared with the top four capitals, while Perth and Darwin have gone backwards by 6.2% and 2.6% respectively in 2016. Darwin's median dwelling price of $465,000 is now below Brisbane's ($470,000).
Unlike Perth, however, Darwin looks to be showing signs of stabilising, with prices up 4% over the October quarter. But CBA senior economist John Peters argued that despite partial recovery in the NT capital, "Perth and Darwin are still 'mired in the red' in terms of dwelling prices due to the downturn in population growth as mining jobs vanished as the mining investment and construction boom dissipated.
"Retrenched mining sector workers have returned to their home states or gravitated to NSW and Victoria," he said. "These states have been at the epicentre of the sharp housing construction upswing in the last couple of years."
Strong capital growth in Sydney and Melbourne means gross rental yields remain at record lows, with a typical house in either city providing a return of just 2.8%. By contrast, Hobart offers a gross rental yield of twice this for units.
Nevertheless, Lawless argues that "high values, low yields and a mature growth cycle haven't been enough to deter investors from the market", citing RBA data showing increased investor housing credit from March to September. Credit growth for owner-occupier housing slowed over the same period.
Looking forward
"With ongoing strong value growth... in Sydney and Melbourne, as well debate around affordability gathering some momentum, there is likely to be further caution by the Reserve Bank around future interest rate cuts, which, if it were to occur, may provide additional stimulus for housing markets around Australia," said Lawless.
Similarly, Peters predicted that "current resilient dwelling construction, consequent lifting vacancy rates and lower rental yields... and the ongoing dampening impact of the RBA/APRA macro-prudential policies introduced in mid-2015 are likely to help cap dwelling prices growth in the coming quarters".