Hoax alert
There are a number of SMS and voicemail messages currently being sent which are requesting you to call a number and then input your details via an automated service. If you receive any SMS message which you have not requested, or are not expecting or a recorded message requesting a call back and you are suspicious, please contact us on 13 2221 to confirm authenticity of the message.
The Commonwealth Bank does not send emails requesting you to confirm, update or disclose your confidential banking information. If you receive an email you believe may be a hoax please forward it as an attachment to hoax@cba.com.au.
The Bank supports the Australasian Consumer Fraud Taskforce in the promotion of ScamWatch, a website dedicated to the prevention of scams.

The Bank has processes in place to detect hoax/phishing emails and fake websites. The Bank works very closely with the authorities when these types of emails are circulating to shut down fake/malicious websites as quickly as possible.
This section provides more information about:
We can't list all of the scams and hoaxes that exist, but we've provided some common examples below. And remember - if an offer seems too good to be true, then it probably is. Be aware.
Nigerian Scam: Fraudsters have been sending out letters and emails inviting individuals to participate in a scheme that ultimately turns out to be non-existent. Usually, the letters purport to be from a government official who needs help in distributing millions of dollars out of the country in return for a cut of the money. Recipients of the letters are required to divulge bank account details and forward tens of thousands of dollars in "advance fees".
Spanish Lottery Scam: Victims of this scam receive a letter advising them they have won a large prize from the 'Spanish Lottery'. In order to collect the prize, they must send money before a certain date to a bank account in Spain to cover the cost of traces, bank fees, delivery and insurance costs.
Email Employment Scam: Victims of this scam are asked to provide their bank account details to prospective employers with the view to facilitating transfer of funds to overseas parties. The victims are told that, in return, they will be compensated by a commission payment. However, the funds transferred have been obtained fraudulently. Do not provide bank account details to any prospective employer until you are satisfied with the bona fides of that employer and/or you have signed contracts of employment.
"Phishing": (pronounced fishing ) emails are used by fraudsters to trick people into revealing personal information such as bank account details. They then use this information for illegal purposes, such as transferring funds or purchasing goods. Phishing emails will look as though they come from a bank or other financial institution, and may include links to a convincing replica home page. Never click on a link in an email that looks suspicious.
Examples of phishing messages are provided below and on the ScamWatch website.
Use commonsense.
Be aware of other scams, such as spam e-mails, chain letters and persons purporting to be representatives of government departments, financial institutions or other businesses.
Do not give or send your name, bank account details, copies of your passport, birth certificate or any other personal details to anyone other than for legitimate purposes.
Be suspicious of any correspondence received from overseas where you have been advised to forward large sums of money or that you have won a prize.
Send a sample to the bank at hoax@cba.com.au. You will receive a confirmation that we have received your email.
Send the hoax email as an attachment if possible, and try to avoid using the 'forward' feature in your email software.
If your email program does not support attachments and you have to use the "forward" feature, please ensure you refuse any prompts to open attachments or download pictures and files.
After sending the sample to hoax@cba.com.au, delete the email immediately from your inbox and deleted items folder. Never click on the link or provide any information requested.
If you have clicked on the link within the email, complete a full security scan of your computer (to check for computer viruses, trojans and spyware). For more information, click here.
If you have responded to any email by providing your confidential information, please call 13 2221 immediately.
You can find other useful checklists at ProtectYourFinancialID and StaySmartOnline.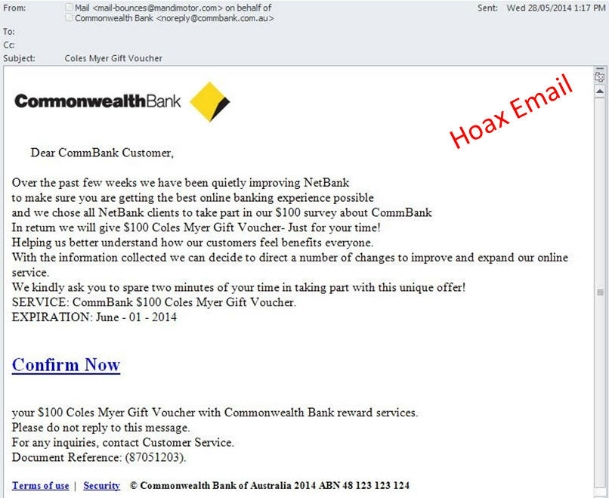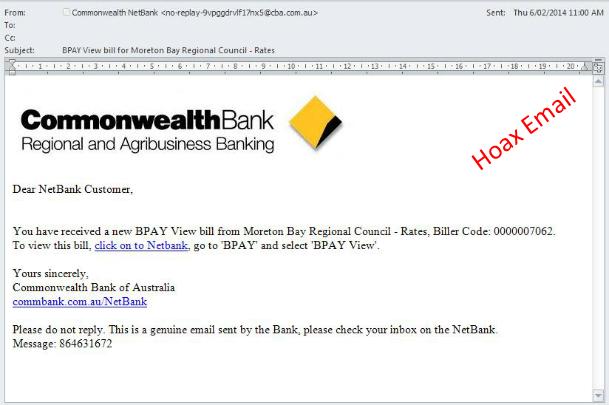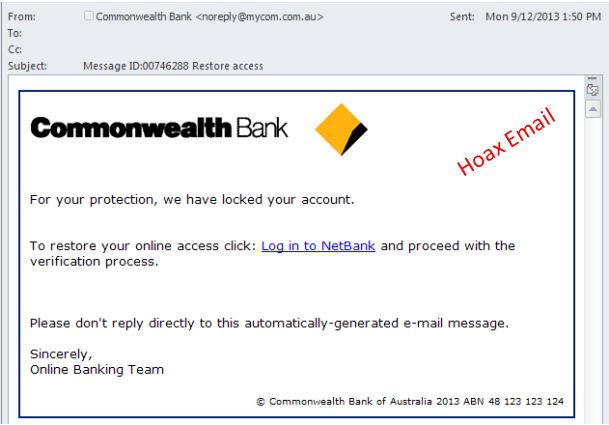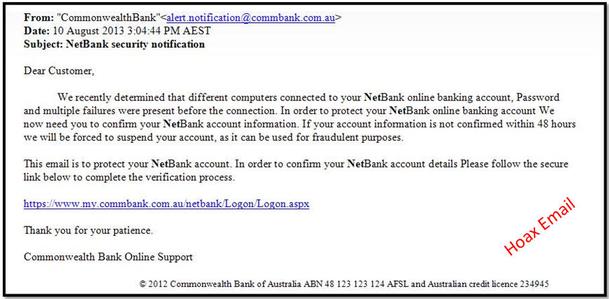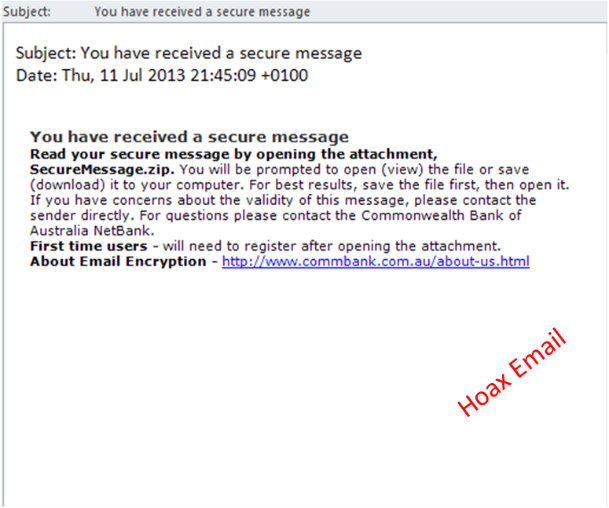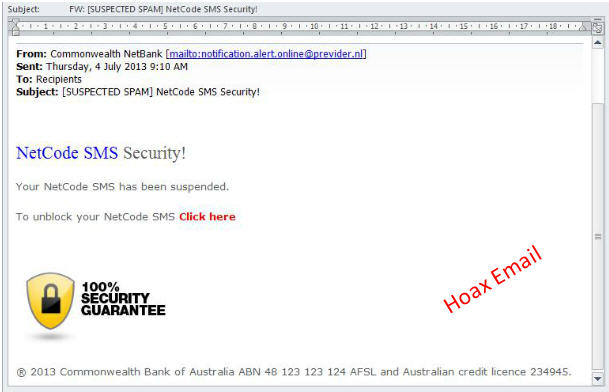 Important information
As the advice on this website has been prepared without considering your objectives, financial situation or needs, you should, before acting on the advice, consider its appropriateness to your circumstances. View our Financial Services Guide. Terms and Conditions for these products and services are available online or from any branch of the Commonwealth Bank. The Terms and Conditions should be considered before making any decision about these products.