Looking to access the equity in your property? It's closer than you think.
You're only 15 minutes away from a decision on getting extra funds using your investment home loan.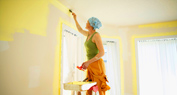 Sometimes extra funds can come in extra handy. As someone with an investment property, we're sure you understand this more than most.
After all, it may be time to replace that old kitchen, fix up the bathroom or even renovate completely to really add value to your investment. Then of course there's emergency or ongoing repairs, strata and council fees and the occasional special levy.
For Commonwealth Bank home loan customers, we've made accessing the equity in your property simpler than ever before. In fact, you can apply and get a decision on additional home loan borrowings in as little as 15 minutes.
It's a great way to get extra funds for those big expenses, quickly and easily. You'll be paying home loan interest rates so it's very cost effective compared to other lending options. Plus as you know any interest paid is tax deductible. So whatever your plans, this is a good opportunity to seriously consider putting them in motion.
Easy online application
To apply to increase your loan online:
visit NetBank and from the 'Apply' tab select 'Home Loans' and
click on the 'Increase your existing home loan' tile.
The application only takes 15 minutes. To help make things easy, most of your details will automatically appear on the application. You can also save and come back to the application at any point.
To register or learn more about NetBank click here.
Important information
Applications for finance are subject to the Bank's normal credit approval. Full terms and conditions will be included in our offer of finance. Fees and charges are payable. You should obtain professional legal, financial and taxation advice specific to your individual needs. Investment and personal borrowings need to be separately apportioned if you wish to claim a tax deductible interest expense. You may prefer to keep such borrowings separate.